10 things to do at the Carole Nash Historic Festival
Find out what the Historic Festival has in store for you in 2023.
#1 Celebrate 100 years of Le Mans
The world's greatest endurance race will celebrate its 100th anniversary in 2023 and Mondello Park is excited to also celebrate this momentous event at the 2023 Historic Festival.

Ireland has a rich history at the famous 24 Hour race and we'll be focusing on cars and drivers who contributed to that history over the course of the Historic weekend.
#2 Take in the Historic Cars in the paddock
Mondello Park always welcomes a great range of cars and car clubs to the venue for the Historic Festival.

No matter what you're looking for, whether its race or road cars and whatever era you are into, we'll have something to excite you!

For Classic Car owners, enthusiasts, collectors, club members, or simply anyone looking for an exciting and unique day our historic car displays will brighten up your day.

#3 Check out the Martin Birrane collection
Since 1968, Mondello Park has been a focal point for Irish Motorsport, so it makes sense that the Martin Birrane Collection should be here.

Throughout his lifetime, Mondello Park owner Martin Birrane compiled a treasure trove of beautiful, historic racing cars which is now housed in our Motorsport Museum.
Some iconic machines are on display from the worlds of Indycar, Formula 1, Le Mans Sportscars, NASCAR and Historic Motorsport.
#4 Dress to impress, Retro style of course!

Ladies and gentlemen, get dressed up to the nines, don your caps and hats, and get ready for Ireland's biggest & most enjoyable Retro car event.
The Historic Festival is even more enjoyable when you dress  to impress, with retro styling and elegance to match the beauty and style of the vehicles on display!
Get out your stylish vintage garments, accessories, and classic pieces to make the Historic Festival an even more unforgettable weekend.
#5 Watch classic & vintage car racing
With a number of great vantage points around the Mondello Park track, there are plenty of spots to include in your day's viewing schedule!
For 2023 we'll have race action from the visiting Guards Trophy, who will race for the Irish International Grand Prix Trophy, Classic Formula Ford 2000's racing for the St. Brigids Trophy and a full grid of Pre War cars in the Dublin Grand Prix.
The race action will also include all of the local Irish Historic Classes.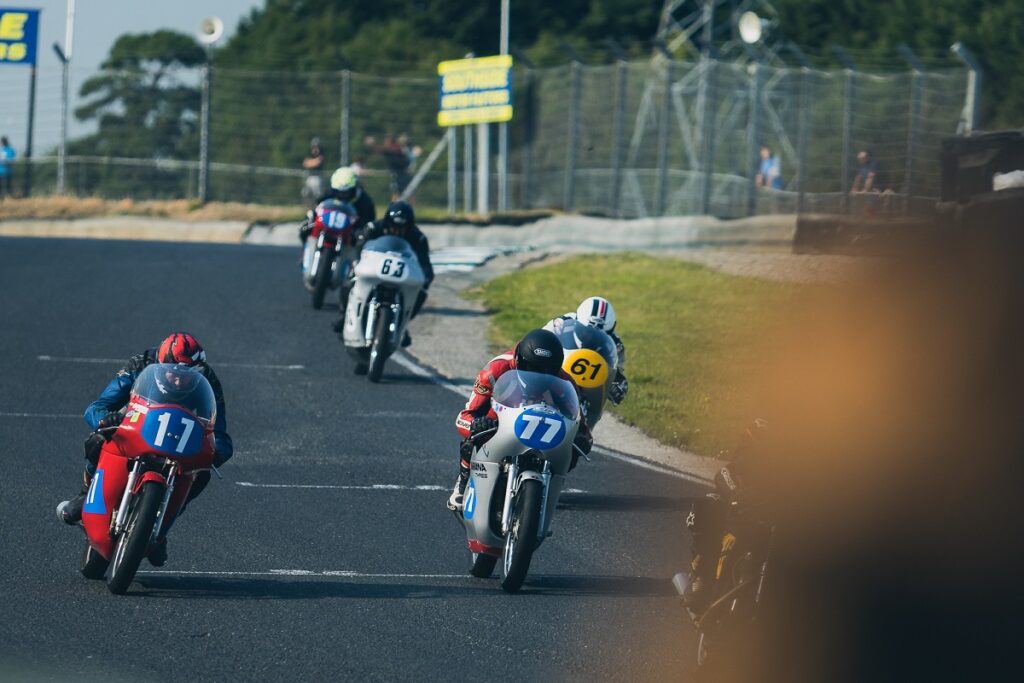 #6 Visit our vintage funfair
There's no better addition to the family entertainment at the Historic Festival than the Vintage Funfair.
The old-school Ferris Wheel, Carousel and Helter Skelter will delight all generations at the event during the breaks between track activities.

With retro games and entertainment also available the Historic Event is the perfect family day out, with the sideshows letting your little-ones catch their breath as they take a break from the historic motorsport action.
#7 Try not to get arrested!
Making sure that our large crowd behave themselves, that all of our vintage cars are properly taxed and insured and that our drivers done get out of line, historic re-enactment group.
They'll be keeping an eye on you and will have the hancuffs ready to lock onto your wrist shopuld they have to arrest you, or if you need to take a selfie with them.
Make sure you stop them for a chat as they're always happy to talk about all things historical!
#8 Watch our Swing Bands in The Paddock
Our Swing Bands are always a favourite attraction at the Historic Festival, a great way to get people up and dancing. The band will be sure to keep the atmosphere lively and get everyone on the dance floor with their energetic performances.

Fast-tempo trumpets, trombones, clarinets and saxophones will surely perk your energy levels again! Classy, exciting and stylish instrumental music you'll love.
#9 Take a grandstand seat and prepare to be surprised!
We're always looking to add surprises to our Historic Festival line-up! From vintage plane flyovers, all drummer bands, celebrity appearances, and the best of Irish drivers.

To catch all of the action you can simply take a seat in the main straight grandstand and wait for the excitement to come to you!
prepare
#10 Get yourself some retail therapy
From the Mondello Park HUB to our trade and merchandise stands, you'll find plenty of retail outlets to browse at the Historic Festival.

Throughout the venue you'll be able to pick up motorsport merchandise, memorabilia, motoring products and information from a wide range of vendors.

Our shopping area will also include a wide range of high quality food and drink vendors.